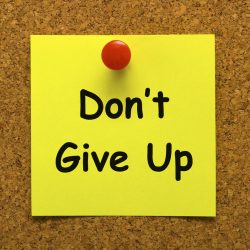 Time to quit? Some people quit. That's what they do.  For others, quitting is never an option. I would guess that, like me, you too have faced your share of life's twists and turns and obstacles. That is a common challenge for many of us.
To quit or not to quit. How many times has that thought crossed your mind?
No one wants to hit their head against a stone wall.  "When things go wrong, as they sometimes will…" (Don't Quit Poem – author unknown),  how will you choose to respond?
The foundation for achieving our goals is based on the depth of our true commitment. When I look back at my own failures, I realize that I was lacking in the total inner commitment that is required to achieve the desired outcome.
I recognize my 'old self' in some of my affiliate referrals when helping them out with their website or a marketing question.   They "love" the idea of creating a successful online business and making it happen, but not so much the actual effort it takes to achieve it.  To achieve our goals, we must go beyond the "idea" stage and take consistent and persistent action towards our goals.
Never giving up does not mean we cannot change direction.  Sometimes we have to know when to accept a disappointing outcome. This does not mean that we quit – it means that we gather our strength and move on to find another way.
A friend shared the Don't Quit Poem in our community. The following is an extract of the last stanza.   If you are looking for more motivation and inspiration, you will find various renditions of this poem on YouTube, set to background music, readings and imagery.

As long as you are fighting to reach your goals, you are a winner. I hope these words empower you to go for it and make it the best journey ever!