Hello and welcome.  My name is Jude Banks, online marketer, blogger, occasional webmaster, 10 years online – and loving it!
The purpose of Earning Online Today is to bridge the gap between knowledge and profit when creating and growing an online business.
There's a saying that knowledge is power, but the real power is in applying our knowledge to achieve a purpose.
I started online as a hobby after a friend showed me how she made extra money posting ads on the internet.  It was fun and I made a little money.
Then I got serious, took online training courses, read countless books and newsletters, broadened my knowledge and marketing skills as well as my perspective on what it takes to create income online.
If your goal is to secure your financial future with online marketing, I hope my website will help with your journey.  Your own experience is always the best teacher, though you should not need to reinvent the wheel if someone has been there, done that and is willing to share the knowledge. Of course, you must draw your own conclusions.
For those of you on a similar path, whether just starting, or well on your way, or about ready to give up, I hope that you will find some useful information here, or perhaps another perspective and renewed motivation to pursue your success online.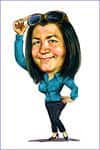 Contact me – Click Here
You might also like:
Insights for Taking Inspired Action