If you have been working to improve your financial status, you have probably learned that making money is not the same as creating income, and creating income is not the same as creating wealth.
Many of us stumble online without having a clear goal at the outset. All we know is that we want to make money.
In my first few years online, the internet was a hobby. I did not have a specific goal or direction. I was content for a long time because, after all, it was just a game. Taking care of my family came first, my career second, and everything else was a pastime.

Then my circumstances changed and so did my priorities. I needed to create long-term income. I joined a popular advertising network that paid commissions on multiple levels.  It appeared to be a solid opportunity at reasonable cost.
Although my commissions were small at first, the income was steady, reliable and, to my amazement, continued to grow steadily.
My referrals were paying the monthly membership fee and buying the advertising products.  It was an easy system to duplicate.  I loved it.  At last I had transitioned from just making a little money here and there to a path of creating income for the future.
You might be thinking, okay, she is coming to her pitch and is about to give us her affiliate links!  I wish that were so.  But no.  Disaster struck.
One day, I was not able to log in to the website for the 'program' I was promoting.   My worst nightmare came true. We learned that the main server had crashed, and the entire business was wiped out. Everything disappeared overnight. They had no workable backups.
It is risky to pin your income plans on such online programs, even popular ones.
Creating income requires a different approach to just making money.
"The good news is that the gap between creating income and creating wealth is surprisingly small and is usually only a matter of scale." ~Dave Gray
Ways To Increase Your Cash Online
1.  Make Money
Making money online is a simple process to understand, though not easy to do. You can sell products or services as a reseller or affiliate. Better still, if you can create and sell your own products or services, you will be ahead of the herd. You can make money, but you will have to keep creating and selling.
Another method is to join a multilevel marketing program [MLM]. The advantage is the leverage built into the referral model.  You are paid not only on your own efforts but a percentage of the efforts of people in your downline.
Unfortunately, the majority of people don't get beyond the 'make money' stage.  That is because the process of building a multilevel business network is like trying to fill a container that has a big hole in its bottom.
Often downline members do little or nothing, despite a sponsor's best efforts to help, support and encourage them.  People are constantly dropping out through the hole in the bottom of the container.  It is possible to build a network so big that it takes on a driving force of its own so you don't have to work as hard, but only a small percentage of marketers achieve this.
2. Create Income
Create an innovative product, and patent it.  Or create something artistic that becomes popular and turns into a classic. Do this once, and with each sale or re-use of your creation, you will receive royalty payments.  Do the work once and get paid for it over and over again. This is the best kind of income, wouldn't you agree?
Another way to create income is to establish a business to supply products that customers will continue to buy from you repeatedly, such as a subscription based information service, membership site, or a consumable product that requires ongoing supply.
3. Create Wealth
I have observed a common pathway followed by successful marketers who reach six and seven figure incomes. They often start out as direct sellers or affiliates (making money); they move on to create their own products and/or online programs (creating income); and then, they transition from just selling their own products to having an army of affiliates promoting their products for them (creating wealth).
"If the ladder is not leaning against the right wall, every step we take just gets us to the wrong place faster." ~Stephen R. Covey
4. Place Your Ladder Against The Right Wall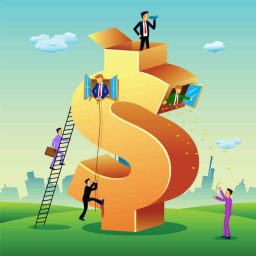 Unless you are passionate about a project or hobby, which is great, most of us are marketing online because we want to improve our financial situation.
Do you think it is useful to distinguish between these objectives – make money, create income, create wealth?  Can you think of other goals?   Please share your views in the comment section.
Would extra cash every month help you out?  Learn how to earn online so you can pay off those debts or buy those extras that have been on your wish list for far too long.
The link in the blue banners below is the best place I have found to learn how to build a business on the internet. Click the button to try things out.  It's free and easy to get started and I'll be there to help you out.

To Your Success!