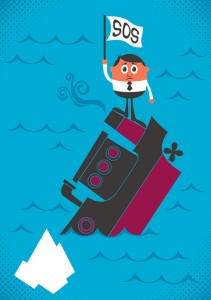 During 2011-12, I noticed a downward trend in Clickbank sales. Was the economy responsible?  Perhaps, partly, but I believe the real cause was the  influx of misrepresented products and questionable tactics used by some big hitter marketers on Clickbank at that time.
I heard about Clickbank reversing commission payments because of breaches, and imposing penalties such as shutting down websites and terminating accounts.
Thankfully since then Clickbank has updated its vendor guide several times to strengthen vendors' compliance with Federal Trade Commission [FTC] requirements. The pressure will continue on Clickbank to ensure that vendors stay in good standing with the FTC.
Does this mean Clickbank is a sinking ship?  It's been 5 years since I first wrote about it and Clickbank is alive and kicking.  Clearly it is not going to sink any time soon.   Clickbank is a large, active marketplace that has been operating successfully for 16 years. I expect it will continue to do so. It has helped thousands of honest vendors and affiliates to earn legitimate income.
Hopefully, with ongoing diligent oversight of adherence to its guidelines, ClickBank will continue be to rid itself of the spammy get-rich-quick promoters who were starting to ruin it for the rest of us.
What Did Banned Clickbank Vendors Do
BEWARE: Some Clickbank vendors who have gotten away with questionable tactics for too long might try to convince you that the problem is really with the too restrictive Clickbank or FTC guidelines, not with them or their marketing practices or dodgy products.
Obviously they cannot continue to use their tactics at Clickbank, so they must find other ways to keep doing what they have been doing – after all, it was profitable. They will tell you that they found a way to turn their adversity into profits, and you can do the same by following in their footsteps.  Remember, unless you are using the same tactics, it should not be your adversity, but theirs.
When I first wrote about this topic five years ago, I had purchased a product through the former Plimus, which was a similar, though smaller marketplace than Clickbank. The product I bought was totally misrepresented and fortunately I was able to get a refund.  I later learned that the vendor had been banned by Clickbank.
The  'bad egg' vendors at Clickbank had moved their business to Plimus, a company trying to establish itself as a credible alternative to Clickbank.  It wasn't long before numerous complaints of fraudulent vendors started to pour in.  This caused big headaches for Plimus, which later had to change its name when it transformed into a payment processor gateway called Blue Snap.  It takes a long time to re-establish one's reputation in such circumstances.
Are Affiliates Responsible For What They Promote
It is important to understand that affiliates are directly responsible for what they promote. If you are promoting a vendor product that is breaking the law, you may unwittingly be breaking the law too. Affiliates have a personal responsibility not only to protect themselves from being scammed but also to protect customers who purchase through their affiliate links.
Click Here To Read ClickBank's Promotional Guidelines