A friend sent me an email to let me know that he is quitting internet marketing for good. I knew he was ranked high in Google and other search engines, so I was surprised that he would quit.
I assumed that because he ranked well in the search engines, he must be successful and making a good income.
My friend set me straight, "Getting to No.1 on Google does not guarantee money in the bank. That's a myth.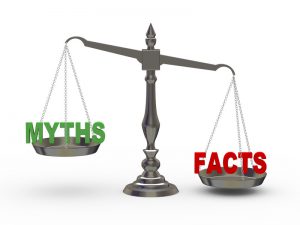 It made me realize how easy it is to make false assumptions when we don't have all the facts.
Some myths prevail despite glaring evidence to the contrary. Perhaps this is because of all the hype about how easy it is to make money online and that anyone can do it.
I believe these myths persist because people accept things on face value and don't take the time to think them through logically.
The list below is just the tip of the iceberg when separating internet marketing facts from fiction.
7 Myths of Internet Marketing
Myth 1:  If you are No. 1 on Google, you will make money.
Reality: Getting to the top of the search engines is only part of the story. Traffic is wasted if no one will buy your product. You must have a product or service that people want, and your website or sales page and sales process must make it easy to convert your visitors into buyers.
Myth 2: There are businesses and people out there waiting to give you money.
Reality:  No one is out there waiting to give you money!  People who have money like to spend it on themselves, their families, and some will give to charity. A business is a business. It is there to "take" your money. A proper business will give you a fair exchange of value for your money.
Myth 3: They tell you "this program" can make everybody rich.
Reality:  If that were true, it would be the only program on the internet because everyone would be in it!
Myth 4: You can make money in your sleep, on autopilot.
Reality:  Sure, you can make money while you sleep, but only if you do the work while you are awake! Would you like to be a passenger on a plane that operated on autopilot?  Who will start and land the plane? Automation can help, but a plane needs a human pilot.  So does a business.
Myth 5: You don't have to spend money to make money.
Reality: Somebody always has to make money before you do.   Henry Ford said it best, "Money is like an arm or leg – use it or lose it."
Myth 6: The more followers you have in social media, the more money you will make.
Reality: It can get loud and crowded in social media.  Is anyone really listening?  You can have a huge number of followers, but unless you engage with them in a meaningful way, it will make no difference to your bottom line. A relationship, whether it is business or personal, will work while both parties are continuing to receive value.  If the value is not there, the relationship won't last.
Internet marketing is about sharing information, awareness, branding and building relationships.  No one wants to be sold to.
Myth 7:  You need multiple businesses to succeed because if one fails you must have others to fall back on.
Reality:  I've seen affiliate marketers promote several different programs or businesses at the same time. Some of these programs actually compete with each other.  They are not confident that any one of them will be sustainable, so they hedge their bets.
One reason so few of us achieve what we truly want is that we never direct our focus; we never concentrate our power. Most people dabble their way through life, never deciding to master anything in particular. –Anthony Robbins
Which business will succeed, one where you apply 100 percent of your resources and commitment, or where you apply 25 percent of your effort to each of 4 businesses?
You can have one business that is structured to provide multiple streams of income.  That can mean setting up your website business model to provide multiple products, services and income options through your one business.   When that business is established, it may be the right time to start a second business, and so on, but not until your primary business becomes successful.
Internet Marketing Reality Checklist – Conclusion
The reality is that nothing works unless we are willing to develop and educate ourselves and do the work.  Click below to do exactly that and discover how you can benefit.