The Internet Is a tool.  How we use it is a choice.  My friend loves tea, but she sells coffee.  Read on to discover the lesson this holds for your online marketing endeavors.
I feel blessed and grateful to use the Internet in my online business. My appreciation for the comforts of working from home was strengthened after taking a job offline for several weeks. It was pleasing to see that commissions from affiliate programs continued to roll in despite my absence.
While I enjoyed working with people face-to-face, I will definitely not miss the daily commute, nor the office politics!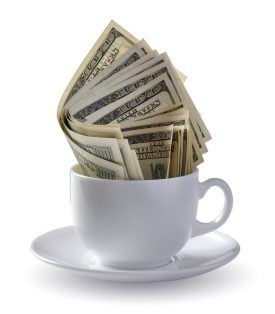 During this time offline,  I met with a friend from Canada who was visiting relatives in Australia. She owns a successful coffee business.  Her company sells specialty coffee beans to high-end cafes, restaurants, and hotels. Her success got me thinking…
You see, my friend does not like coffee; she dislikes it intensely and avoids drinking it like the plague.  She loves tea, with a passion, and is always giving away samples of new blends of tea that she discovers on her travels.
I asked her why she is selling coffee when she never drinks it herself. Wouldn't she be even more successful selling tea – her passion for tea would certainly shine through.
Don't the gurus advise us that we are more likely to succeed if we are passionate about our products?
Her answer was interesting, "What I prefer is irrelevant. I focus on what my customers love and can't get enough of.  I could have gone into the tea business, and I considered it, but the research clearly indicated that coffee would be a more profitable business for me."
Then I asked, "So, being passionate about what you sell or promote is not necessary for success?"
My friend replied, "My business is not about me and what I prefer.  I am indeed very passionate about giving people what they want!"
The same principle applies to making the internet your money-creating tool. Always place the passions (wants, needs and desires) of your customers ahead of your own personal preferences. This requires thinking with a business mindset not a consumer mindset.  An online mentor once told me, "Money flows over the internet for exactly the same reason as it flows anywhere.  If you can fulfill what others want or need, the money will flow to you."
My tea-loving friend, who nevertheless operates a coffee business, is a perfect example.
Making extra income online is not magic. But can you succeed without passion?  I wrote an article about it at the Wealthy Affiliate community because people misunderstand what it takes to ignite passion within you if you don't have any.   Some preach the 'do it with passion or not at all' mentality, otherwise you are doomed to mediocrity. Not so!
Forget about searching for your passion.  It is more important to be good at what you do. Why?  Click here to read about it at my WA blog. (note: you will be able to close the pop up that appears and continue reading).