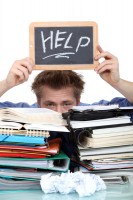 How many times have you found yourself rummaging through drawers, cabinets or searching frantically through computer files to track down an urgent piece of information you needed fast?
I was a reasonably organized person until I started online and struggled with information overload. These days most of us need information at our fingertips, as well as a way to keep track of things.
Fortunately I came across a nifty software tool, Azz Cardfile.  It's been around since the 1990s when developer Antanas Zdramys created this  flexible system to replace the defunct Microsoft Card File.
I found a terrific way to organize my online information. I've been using it for 7 years and love it!
Computer File Organizing System
One limitation which I mention early so that I don't waste your time reading this post, is that Azz is Windows-based, and at the time of writing this post, it could not be used with Linux, iPad or Mac operating systems or any mobile device.  This could change in the future, so you might want to check the main website.
I did a quick search and saw a few similar products for non-Windows operating systems.
Back to Azz.  The file organizing system is light software called Azz Cardfile.
If you have used index cards or Rolodex, and you're on a Windows system, you'll like Azz.  And you won't run out of cards, or space.  You can add up to 2 billion (yes, billion) cards, or as many as your computer resources allow.  Print them all, or print selected cards.
Azz Cardfile can be used for home, lifestyle, crafts projects, or anything else that you want to organize, keep track of, and store electronically. I use it to store notes, manage my contact lists, to-do lists, and affiliate details.
The application is straightforward and powerful, yet uses very little computer resources.  It has many features, such as type and paste text, format text, add images, clickable links, and much more. The data is backed up automatically and can be password protected.
Copy the program to a portable USB device and carry it around, ready to use on any computer anywhere.  I have numerous cards in mine, and a quick search enables me to find what I need in a seconds.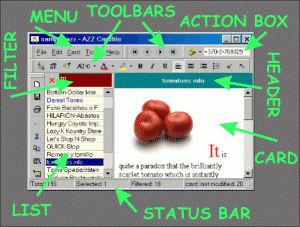 The Free Trial provides complete functionality, and the trial period does not ever expire. You can use your trial account for as long as you like, though a nag screen pops up to remind users to register, but it can be overridden.   After using it for a while, you may decide to register it.
If you fall in love with it during the trial, you will have good prospects for getting yourself a free license. I would not begrudge you even though I paid for mine! Visit this page to find out how you can get a free lifetime license.
One limitation is that Azz, which is Windows-based, cannot be used with Linux, iPad or Mac operating systems or any mobile device as far as I can tell.
Azzcard Software Delivers Stellar Performance
Over the years I've had Azz installed on several computers and have never needed to contact support. It is a robust and stable application, well looked after by its developer. However, we humans tend to complicate things and sometimes in our haste don't follow instructions or we overlook the obvious. Should you decide to take up the free trial and run into a snag, by all means contact me, I'll be glad to help.
The program may seem old fashioned or outdated to some people because it is not fancy or flashy.  It is practical, it works, and you can see by the testimonials on the website that people from all walks of life enjoy using this application.
I recommend this versatile intuitive tool for anyone who wants to record, organize and store any information.   I use it daily.  It is worth every cent I paid, but as I said, you can use it free for as long as you need to.  I cannot imagine functioning efficiently online without it.
Check it out at the Azz Cardfile website.  This is not an affiliate link.
Are you using any organizer tools that you would like to share with others?  Or maybe you've had a negative experience with such tools?  Let us know about them by leaving your comments.