Online business owners are always looking for ways to build income streams and increase the bottom line. Who doesn't want more income?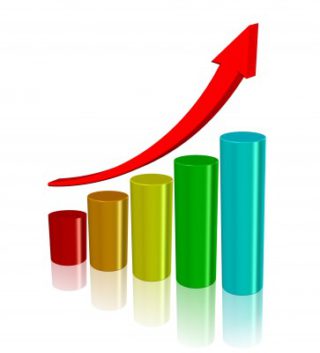 The common advice, often misguided, is to build multiple streams of income. At first glance that advice seems to make sense. But there are pitfalls to avoid.
You won't want your online business to rely on just one source of revenue, but you will want to ensure that you are building income streams, not stumbling blocks.
Wrong decisions can hinder business income growth, as the following case study demonstrates.
Case Study – Building A Virtual Assistant Business
Marie is at home on maternity leave. She wants to work from home so she can take care of her newborn. She does not want to return to her job as a support officer in the IT department of a large company but needs an income. She decides to set up an online business from home to provide virtual assistant services to prospective clients. She learns about the role of virtual assistants, creates her own website and opens for business.
Through a Facebook contact, she lands a new client who gives her a few hours of work each week. The future looks promising as more companies and solo entrepreneurs are seeking the services of virtual assistants.
With only one client, Marie looks around for ways to boost cash flow until she can grow a regular clientele for her services.
Multiple Streams of Income – Focus or Distraction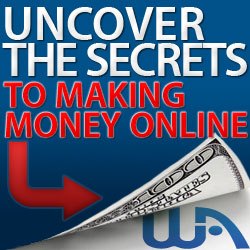 A friend suggests that Marie start selling other people's products on her website so she can generate multiple streams of income from affiliate commissions while she continues to build her main virtual assistant business.
Marie joins three affiliate networks and adds banners and referral links to her selected products. She spends several hours a day promoting those affiliate products on Facebook and other advertising sites. Two months pass and she has not made a single sale.
From Product Creation To Online Riches
Marie comes across an article by an internet marketing guru stating that the best way to profit online is to create and sell one's own product.  She delves into the world of digital product creation.
It takes two months to create her first product about how to become a self-employed virtual assistant. She places it on her business home page with a "buy" button.
Surely now business will improve. But nothing happens, and the income from her one client will not keep her from returning to her job.  It wasn't as easy as the hype had suggested. Was she naive to believe she could have an online business set up and profitable before the time came to return to her job?


Marie's lack of results could be due to several factors: she is not getting enough targeted traffic to her website; her web pages are not ranking well in the search engines; her marketing and promotional materials could be ineffective, and other reasons
As it turned out, the main problem that eluded Marie was even more fundamental!
Marie's business stalls. Despite her efforts to add other income sources to her website, such as affiliate links and her own digital product, none produce income. One day while searching for answers, Marie comes upon an article that explains why most new online businesses fail.  Suddenly it all makes sense.
She discovers that she has been doing the right things, but at the wrong times and in the wrong order. She has been building stumbling blocks, not income streams!
The Power of A Single Focus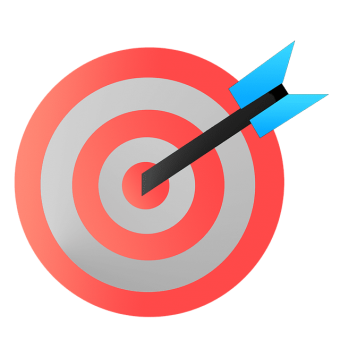 Marie had set up her website then got distracted with other online activities before her primary business even had a chance to get off the ground.
She should have given priority to establishing her main virtual assistant business before anything else. She diffused her immediate effectiveness by spending time and resources on researching affiliate products and then producing her own product too early in her new venture. Her timing was off.
These activities are important. But it is crucial to know when to do them and the right order to implement them, otherwise they could turn into stumbling blocks instead of stepping stones.
Fortunately, Marie realizes her mistake. Her priority must be to generate active income through her primary business. She joins several virtual assistant networks. She had avoided such networks before because she had wrongly assumed they were her competitors. On the contrary, this activity brings in leads and new clients.
The Right Time To Scale Up For Business Growth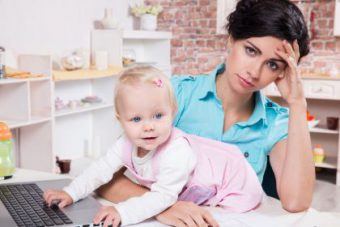 Marie focuses all of her attention and efforts on her main business, that is, building her virtual assistant clientele. She reaches the stage where her diary is booked well ahead.
Up to this point she has been content to trade her time and work for active income. But she faces a dilemma.
Although now operating her own virtual assistant business, it still feels like a 'job', albeit without the daily commute. Marie wants her income to grow even when she is not sitting in front of her computer.
How can she increase business revenue while enjoying more free time with her family?  She rejects the idea of increasing her fees or clientele. Raising her fees could alienate her existing clients and she has no hours left in the day to take on more clients.  She needs a new source of income that does not involve ongoing demand upon her time, something she could do once and continue to earn the rewards.
As Marie is now making a full-time income with her virtual assistant business, she could teach others to do the same. She decides to transform the digital product she produced a few months earlier with much more authority. She could turn it into a comprehensive full training course on how to operate a thriving home-based virtual assistant business.  She hires a university student to help with virtual assistant tasks and this frees up her time to prepare the course, which includes a series of videos and written tutorials.
Hustling, Bustling and Networking For New Customers
Marie is becoming well known in the virtual assistant networks. Satisfied clients are spreading the word. She accepts an invitation as guest speaker at a seminar hosted by a professional business network. The audience members are people who want to establish themselves as virtual assistants. It is a popular topic and the event is booked to full capacity. At the end of the seminar, Marie offers her new course at a discounted price for attendees.
This works! Marie makes many sales and continues to do so after the event. She now has a growing list of new customers buying her course and spreading the word on social media.
Boost Revenue – The Power Of Leveraged Income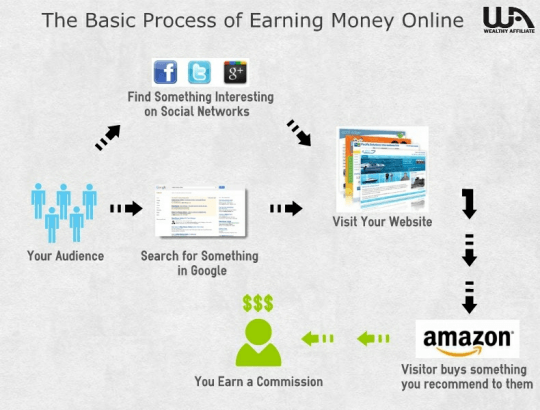 The next logical step is to create an affiliate program so others can sell Marie's training course for her. This provides leveraged income and enhances Marie's profile and reputation online.
Her primary business, now well established, together with her successful course, have gained Marie authority in the industry.
The time is now right to further boost revenue by monetizing her website with affiliate products that do not compete with her own products and services.
The Best Kind of Income – Passive (Residual)
Next, Marie writes a book, the definitive and comprehensive guide to setting up and operating a virtual assistant business. Her strategy is to sell it on Amazon. The book cover takes pride of place on her website, linked to Amazon.
She could have sold the book directly from her own website and earned more per sale. But Amazon had two compelling advantages:
(1) the power to leverage the millions of customers who shop at Amazon daily, and
(2) the opportunity to capitalize on the Amazon referral engine for her next book.
Once an established author, it would become easier to sell directly from her website.
Adding New Revenue Streams At The Right Time
After a faulty start, Marie changed her strategy and increased the flow of income to her business from multiple sources, and this time she implements the revenue streams at the right time and in the right order :
1. Establishes herself as a sought after virtual assistant: active income.
2. Produces a training course, and an affiliate program: leveraged income.
3. Writes and publishes a book on Amazon: passive income (also referred to interchangeably as"residual income")

What is the next step? These days Marie no longer works as a virtual assistant. Instead, she expanded her company's services into a one-stop online agency for businesses around the world seeking to hire virtual assistants on demand.
Case Study – Conclusion
Implementing multiple income streams in a service-based business has to be done in the right order and at the right time:  active income > leveraged income > residual income.
Marie's success was assured once she understood that she must first focus on building her primary business. Thereafter she was in a better position to recommend both her own products and affiliate products that were consistent with her core business.
Marie's progress can be charted as follows:
Self-employed virtual assistant – active income.
Virtual assistant business website – active income.
Creates Course + Affiliate Program – leveraged income.
Monetize website with affiliate products – active and leveraged income.
Publishes book on Amazon – passive or residual income.
Founder & CEO of Marie's Virtual Assistants Agency.
Marie progressed from –> earning money, –> to creating income and finally –> to creating sustained wealth.
Note: The above is a hypothetical case study for the purpose of demonstrating the business principles discussed.
If you have something you would like to add to this topic, please post it in the comment section, and thanks for reading!
If your dream is to have an online business that is built to last, get started at one of the most trusted training platforms. This is the one I recommend to my closest friends and family, without hesitation.
Start your online business today at Wealthy Affiliate.  I will be there to help you every step of the way.