To make sustainable recurring income via the Internet, it makes sense to own your domain name and website. These are potentially valuable digital property assets – cyber real estate that you own and control.
In this sense, your website is your business, not just your business address. 
Affiliate Marketing – Why Have Your Own Website
Having your own domain and website is more professional than a free website. It shows that you take your business seriously.  Plus you will have more control because free services have limitations.
The rules can change overnight and free accounts can be cancelled by a provider at any time.   People often ask: "can I use free blogs or social media business pages instead of my own website".  Bear in mind that with third-party free websites, such as blogs, social media and advertising platforms,  you don't own the internet real estate – they do.  They decide what you can or cannot do on their platform.  You could also miss out on receiving targeted organic traffic from search engines.
Social media is useful for branding and communicating with existing and potential customers but the point of sale conversion usually occurs at a website or web landing page payment gateway. 
It's fine to start out with a free website and free hosting to test things out while you are learning the ropes and gaining experience.  Keep in mind that a free site won't take you the distance in an online business.  For one thing, you probably won't be able to install SSL security or a shopping cart and secure payment processing.   
The Company Disappeared, So Did My Income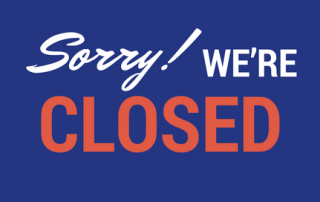 Every day online businesses close down for all sorts of reasons. Not all are scams, but stuff happens. When I started out,  I was in multi-level programs and opportunities that have since hit the dust and disappeared.
In those days I did not have my own website and used what the company provided. 
When the company disappeared,  so did the team I referred and the company website.  I had to start over.
I post about these fallen businesses from time to time because I believe we can learn to distinguish good opportunities from bad ones by recognizing the warning signs.  
Several factors can contribute to the downfall of any business over which you have no control. These might include  outdated technology, illegal business models,  search engine changes, illness of owners, and getting bad or unfair reviews. 
For example, read my post about legal action taken by the Federal Trade Commission in February 2018, resulting in a temporary shutdown of a business pending the outcome of the court case.
Generating income through your own website is possible in many different ways and you are in control.  For example, by offering clients your own personal services, such as writing, editing, web design, search engine marketing, and social media support. Or by operating your own e-commerce website. You might consider creating and marketing your own physical or digital products. 
Another avenue is to earn commissions by promoting affiliate products on your site. I chose affiliate marketing because it avoids the risks and pitfalls of multilevel business models. It offers freedom, flexibility and more control. It has low overhead expenses compared to a brick and mortar business.
Learn From My Experience
A few years ago a multilevel marketing company where I was making a regular income experienced a sudden and catastrophic network database failure. More than 28,000 members, including yours truly, lost earnings overnight. In some cases people lost entire livelihoods.  Was it a scam?  No.  Was it mismanaged?  Yes.
It took 3 years for the owners to re-open that business. Many former members returned. I guess they remembered the good old days.
By then I had moved on to affiliate marketing.  I was lucky, I still had my autoresponder email subscriber list.  Companies come and go. Social media sites can close your account, Google and affiliate programs such as Amazon can ban your account for an innocent mistake.  

Three main assets of your online business are your: registered domain, securely hosted website and email subscriber list. Do everything to protect these from loss, or being compromised.
When you treat your website as a place of business, your mindset changes.  Should a product or service that you recommend not deliver on its promises,  you can remove it from your promotions and replace it on your website with another product or service, and your overall business, and website, will remain in intact.
To have a sustainable business, create your own website!  Not just any site but a recurrent income website with a domain name that you own.
Your Role Is Not Just Webmaster
Become not just the webmaster but the master of your website as a core part of your business. Affiliates do not need to accept payments directly through their website; nevertheless, affiliates must manage their site as a place of business.
Whatever business model you adopt – network or multilevel marketing,  promoting affiliate products, or providing your own services directly to clients – becoming the master of your business requires the right set of skills, tools, resources and support.  You don't need to reinvent the wheel; you can follow an established business and marketing plan.  With a bit of determination, you will be on your way to running a successful  internet business.F
Free  Step  By Step Website Building Training
Visit Us And Get Started Now
Setting up a website at the above link will automatically give you a free account at Wealthy Affiliate, with no obligation whatsoever. Continue the free training at your own pace for as long as you wish. It's a great way to kick start a new online endeavor.  Upgrading is entirely optional; do so only when you decide to take your business to the next level.
If you would like to know more, read about it here .