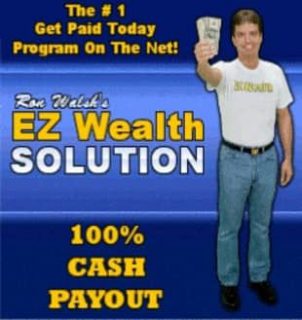 Name:  EZ Wealth Solution
Website: ezwealthsolution.com
Product: Digital Products – Must buy to qualify
Upsells:  Levels 1 to 5, one time purchase for each level
Price: From $47 to $997, plus $10 monthly
Owner: Ron Walsh
Who is it for: Resellers, Recruiters
Rating:
(1.5 / 5)
EZ Wealth Solution – Hype or Real
---
EZ Wealth Solution is a direct sales internet program created by Ron Walsh in 2008. It is still online ten years later in January 2018 but clearly interest in it has considerably waned.   He created a sequel program in 2014 called DigiSoft Payline – see my notes at the end of this post.
I was a member of EZ Wealth Solution for 3 months.  I explain later in this review why I left.
I  liked some aspects of the program: You are your own boss, not working to make someone else rich. There are no matrices to build in order to sustain income. You can use the products yourself.
The start-up cost is $10 monthly, which is the reseller admin fee for hosting the website and back office.
The sponsor pays $47 to bring you in at Level 1. You will have to do the same for your first referral. You pay it forward only ONCE.
The company has hundreds of private label rights [PLR] products in its database. These products are bundled into five differently priced packages, ranging from $47 to $997.
Each package includes a supply of information products and marketing software with resell rights. The quality of the products at Level 1 were mediocre, at best.  But as you will learn, the focus of this 'biz op' is not on the products but on making money.
Is Ez Wealth Solution Legit?
---
During my research prior to joining, I came across comments claiming the products were worthless and the program was a gifting or a pyramid scam.  I found none of that to be accurate.
Although members recruit resellers and develop sponsor-downline relationships, it is not a multi-level marketing program or MLM, though the uninformed can be forgiven for thinking so initially.
It is required to pass up your first referral to your sponsor. Then pass up two referrals to qualify for the next package and so on. There are no matrices to build.  As you buy each package, you qualify to earn 100% of sales for that product package.  You can resell products individually, or promote the EZ Wealth Solution opportunity, or do both.  Most members promote the opportunity rather than sell the products because it has more income potential.
The pay it forward plan has nothing to do with gifting by any stretch of the definition because you are essentially paying it back to your sponsor from when you first signed up.  It enables new people to earn their way to qualification with an initial ten dollar spend to register as a reseller, and thereafter ten dollars monthly for admin and hosting fees plus the cost of each product package purchased.
The program is borderline legit.  The real product is making money, and the digital packages exist to make the moneymaking legal.  In fact there is little in the sales pitch that talks about the inherent value of the products, which serve as the vehicle for in-house distributors buying from and selling to each other.
The EZWealth Solution Free Video Tour
---
CEO Ron Walsh explains in a free video tour how it works, after which you can access the back office. I found everything to be transparent and above board. In a communication to members in 2012, he advised that resellers had made $1.5 million in sales. As at January 2018, six years later, the video tour had not been updated.
Members are advised upfront that this is not an autopilot business. You must advertise consistently, manage payments and communicate with tour takers and referrals.  The system, through its video tour, does initially sell itself. Ron is a good presenter and he knows how to close the deal. People who are not marketing savvy can run with promoting the simple Personal Power Line marketing page, or main website, but that by itself will not be enough to create a long term profitable business.
Marketing and Promotions Strategy
---
I observed during my membership that the marketing campaigns led strongly with the moneymaking opportunity rather than the value of the reseller products.  Many online opportunities are structured this way.
In reality, resellers do not join to buy the products; they join because they want to make money and they can do so by both selling the products and referring the business.
When a member who is already in the system decides to buy the next higher priced package, by then that person is "inside" the system and must buy the package directly from the sponsor or the next upline who owns a package at that price level. Payment is made member-to-member, and that might be construed as not selling to consumers who are outside the business.
However, as products can be sold to the general public, this is not an issue other than my preference to avoid such ambiguities where possible.
Why It Was Not Right For Me
---
Overall, I found EZ Wealth Solution to have an effective pay plan, an organized and well constructed back office, a chance to get paid daily for sales, and plenty of marketing tools and resources.
My reasons for not staying with the program came down to two things.  One is that I was not comfortable in an environment where the key focus is not on extolling the virtues and value of the products and services. It's a money-making scheme, pure and simple.
To be fair, I only had experience with the products included in the Level 1 package.  While I could see that some people would find those products useful, personally I did not, and my heart was simply not in promoting those products.
Whether one uses a product, or even prefers it, should not necessarily be a factor in a decision to sell it.  In business, it is enough to know that there is a demand and consumers in the marketplace want to buy those products.  Business is about giving people what they want, not what you personally like or don't like.  However, personally, I need to believe in and feel good about the product or service I offer to people.
The second reason I left was that success ultimately relied on going 'all in' and buying the 5 product levels.
In essence, one is selling products to their referrals, not to the general public.  While nothing prevents anyone from selling the products to the public, resellers only earned commissions on package levels that they had purchased. Most affiliate networks, such as Amazon, Clickbank and others do not require affiliates to buy the product before earning commissions from selling it.
To earn at the top level at EZ Wealth Solution, you would have to purchase the $997 product package and all the levels in between, otherwise sales bypass you and are paid to the next qualified upline. From a compensation plan point of view, this would be wonderful if the products have genuine value.  The reality is one can often source those products online for free, or at less cost.
EZ Wealth Solution
---
Ron Walsh was upfront about creating the program primarily as a money-making vehicle, rather than a provider of quality digital products.  That is what people want to hear about  – an "EZ" way to make money for individuals willing to play this type of "I'll scratch your back if you scratch my back" type of money making scheme.
DigiSoft Payline
---
Ron Walsh launched his other 'biz-op', DigiSoft Payline,  in 2014, also a direct reseller program.  I looked at it closely without joining, did some research and due diligence and discovered that it was basically a rehashed version of EZ Wealth Solution but had a lower entry price of $15 and $35 packages, with a 1-up and 2-up compensation plan.
Updates as at January 2018:
Alexa Traffic Rank for DigiSoft Payline was: 303,968 with 206 websites linking in, indicating traffic and activity.
Alexa Traffic Rank for EzWealth Solution was 12,435,968 million (not good), with 77 sites linking in, indicating not much activity.


While Alex Rank is not the most reliable ranking tool, nevertheless it reveals the trend.
When a program offers 100% of the profit paid member-to-member, it sounds good, but usually is a loss leader strategy. This means the program intends to make up for the initial loss down the track.
Traffic is only one indicator of a programs popularity.  Look at the extract image below from the DigiSoft Payline website – if only it were true!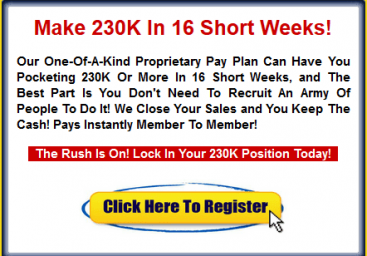 Unfortunately, the "$230K in 16 weeks" is pure hype.  If it were true, we would all be members there!
Postscript:   I updated this post in January 2018 because both programs appear to be still active, though clearly the level of interest in them has dropped off significantly.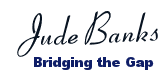 You may be interested in other reviews: