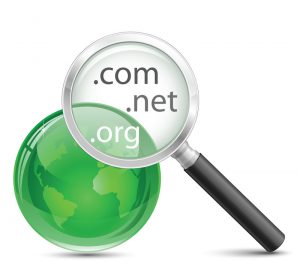 Before deciding on a domain name for your website, you need to identify your market audience and the purpose of your website. If your goals are fuzzy, your choice of name might be too.
Understanding how to name a website domain can contribute to the success of your website and help you to avoid costly mistakes.
A while ago I changed the domain name of one of my websites and learned key lessons about how to name a domain. I share this so you can prevent common mistakes.
Keyword Domains, Exact Match Domains [EMDs]
Using keywords or exact match domains [EMDs] used to be a common search engine optimization strategy. In an exact match domain, the name of your website could be a product type or category for what you are selling.
For example, let's say your site promotes teeth whitening products. Back in the day, a domain such as teethwhiteningproducts dot com could easily rank on page 1 in search results.  It no longer works. Google released an EMD algorithm a few years ago that killed that strategy.
Quality of content is the main factor for ranking. A site with poor content will not benefit from keywords in the domain name. Exact match domain names still attract search engine traffic provided the domain is your brand and the website gets a high quality score on its other elements.
You can decide to choose keywords in domain names if it aligns with your goals. Just don't rely on it for search ranking purposes because you will be disappointed.
Brand vs Keyword Domain Names
You will be better served by selecting a domain name for its branding power rather than search engine power.  When people remember your brand, they will find you!
In an article at Sempler Plugins,  Arnaud Broes has tips on domain names for SEO.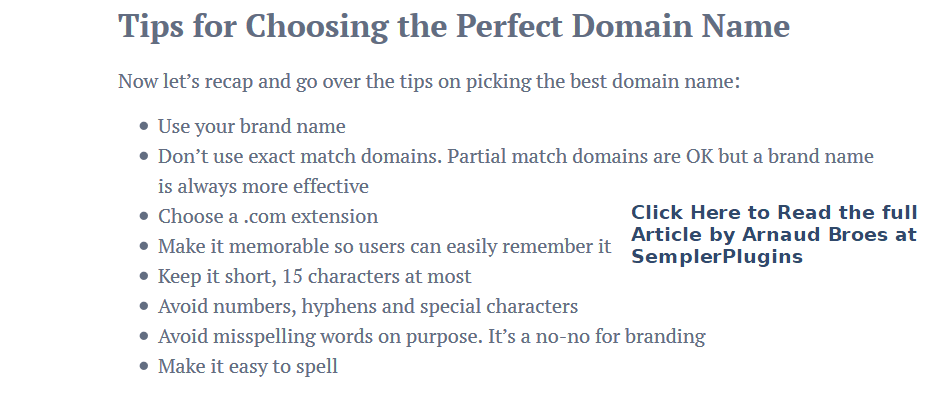 Content is More Important than Domain Name
A site with minimal content and over-repeated link anchor texts sends a red flag.  The days are over where people can set up dozens of crappy mini sites with targeted keyword domains and the same single phrase keyword across the entire site and get highly ranked.  Anyone doing this and wondering why their site got buried deep in the listings, must rethink that strategy. For SEO, content matters more than domain name.
Domain Age
Google no longer gives much weight to the age of a domain name.  However, Bing search, which is attracting a growing percentage of the search market, does give weight to the age of the domain.  This means that you can still gain a ranking advantage in Bing search if you buy an expired domain name that has a good reputation and is, for example, at least 3 years or older.  How long this strategy will remain effective in Bing is currently unknown.
Do not Use Trademarked, Misspelled, or Cute Names
Deliberately misspelling domain names because the correctly spelled names are taken is not a good idea. For example, dropping vowels, replacing S with Z, or doubling letters does not look professional, nor are such names easily remembered.
You may have seen lists of unfortunate domain names. Ensure that your domain name cannot be misinterpreted to mean something unintended, unless you really don't mind getting traffic from any source!  For example, a perfectly good company name is Dickson, but DicksonWeb could be misconstrued and may not be the best name to inspire client confidence. Make sense?
Using cute names is not a good idea as it becomes difficult for people to find you.  I've seen domains with UR for Your, luv for Love, gr8 for Great, and so on.  Discard the cute names unless you are totally convinced that it could become as popular as Yahoo or Twitter, and that it is part of your marketing plan from the outset.
Be aware of typo-squatters, those who deliberately register misspelled popular domain names in order to capitalize on trademarks or steal traffic when visitors make innocent typos in their browser. If you have a top level domain, you might consider registering common misspelled variations to protect it, then redirect that traffic to your website. Domain Tools offers a handy typo-finder tool.
Don't use patent or trademark names, for example, something like MacProSale.com.  You will be in in breach of the MacPro trademark. Go ahead, check it on the U.S. trademark website, at USPTO.gov. The trademark owner will shut you down in a blink of the eye and you will lose everything.  Don't risk it.
Do NOT Use Hyphens
I do not recommend using hyphens in domain names. I used hyphens in one of my early domains because people gave me feedback that "earnemoney" was confusing and earn-e-money.com was clearer.
The problem was that each time I told someone the name of the site,  I had to spell it and usually they did not remember where the hyphens were supposed to be inserted, and they ended up on different sites. When you have to spell it, take that as a clue that maybe you should be searching for a different domain name.
Also, a domain name with a hyphen has less value. Many buyers will not consider names that are hyphenated or include underscores, so why limit potential buyers should you ever wish to sell your domain.
Using Your Own Personal Name Or Company Name
If, like me, you anticipate that your traffic will come mostly from loyal readers, email subscribers, social media connections and referrals from other websites, then using your personal name might be appropriate for you.
I was outgrowing my earlier blog and realized that I was building a business, not just a blog. It then felt right to change the domain to my own registered business name.
Top Level Domain Extensions:  .com, .net, .org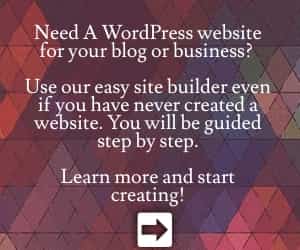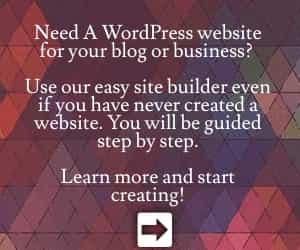 TLD is the acronym for top level domain extension.  Get a .com address if you can.  It is the most popular and effective top level domain.  If you can't get the name you want, then check if it is available with .net or .org.  The disadvantage of using other extensions is that your visitors might end up on other sites because people tend to go to .com first.
Domain Registrars offer a variety of TLDs.   Some extensions are more popular than others. Here are examples: .technology; .today; .tips; .guru.  The terms and conditions for purchase can vary with each top level domain.
After you have chosen the domain name,  select a domain registrar and/or web hosting service to make your purchase.
The domain registrar and hosting company may be the same company.  Many registrars offer web hosting packages and web host companies may offer domain registrations.
Web hosting companies may waive the domain registration fee or give a discounted rate to those who sign up for a hosting package.  Be aware that this can cause difficulties down the line should you want to change your hosting service. Ask upfront about what will be involved should you decide to get your website hosted elsewhere.
After choosing your domain name, look around for a web hosting service that meets your needs. If you already have a domain name, choose any suitable hosting service. Then go back to your domain registry account and modify the DNS server address settings so that it points to your chosen hosting company.
My advice is to choose domain names that are easy to remember. Then focus on creating a website that provides quality content and a good experience for visitors.
Check The Domain Name History For Previous Google Penalties
Before buying your new domain, here is one further tip. Check the Whois record to see if anyone has owned the name previously. Or check the name on the Wayback Machine.  Why would you care?


Well, it happened to someone I know.  The domain had Google penalties that carried over to the next purchaser. The previous owner was someone with a checkered past. Even though the name had not been used for three years, it wasn't long before the new owner was experiencing some backlash. People have long memories.  It is not a pleasant feeling to know that your website may have a negative association for some people.
The Downside of Buying Cheap Domain Names
You may have seen promotions for bargain domain names at cheap prices – for example, the $0.99 domains offers at GoDaddy, 1and1, and other registrar services.   It's tempting.  Such offers are designed to pull you in as a customer and once they've got you, guess what?
The process for buying your cheap domain will usually include company up-sells. If you are new to the domain and hosting industry, you might believe those extras are essential and reason that you might as well add them to your purchase.
When your cheap domain is due for renewal, the cost of the second year domain name will be much higher and so will the cost of those add-ons.
Even experienced marketers can get caught. They intend to transfer the domain before the renewal date. But the original registrar can make you jump through hoops. After all, they gave you the cheap price to get your business. They want to recover what they lost in the first year.
Be aware that buying a .99 cent domain can prove to be false economy in the long term.
Free Domain Name Generators
You can search for and find several free domain generator tools on the web to help you find domain names or brainstorm creative ideas. You never know what will capture your attention. A tool I have used in the past is:  leandomainsearch.com
You simply add a word that you would like to appear in your domain URL and go from there.  Have fun!
Domain Privacy aka (also known as) WhoIs Guard
I highly recommend adding Domain Privacy to your domain name purchase. Otherwise your personal information will be accessible to anyone. Be aware that some registrars offer this free for the first year, but after that, the registration renewal charge will include a fee for the privacy protection.
Hosting Tribunal – Domain Facts – Infographic
The folks over at Hosting Tribunal published on their blog a useful Infographic on the topic of Domains. They've done a great job – it provides a complete overview of everything you would want to know about Domains and includes some interesting and fun facts.
Check Out The  Domain Infographic Here
Do you have domain naming tips or experiences to share?  Leave your comment below for our readers – it helps everyone. Thanks!
You Might Also Like: