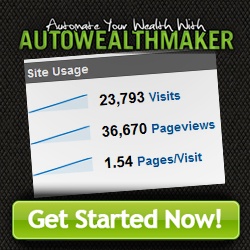 This is not a review of Auto Wealth Maker.  I offer personal observations based on my experience with the program during May – June 2011.
Auto Wealth Maker [AWM] is promoted as a "Killer Niche Site & Traffic Generation Product That You Can Be Proud To Promote".  Is this the reality?
I liked the training modules and the site builder.
The owners stated that with a little practice one can set up a niche mini site in ten minutes and that would make it possible to prepare dozens of mini sites quickly.
The promo says "It's so easy I'm sure a kid can do it, just follow the steps,  do your research, build your sites and send free traffic".  I am not fond of such statements because  it makes the whole thing seem much easier than it really is.  It's hype.
The point is to create optimized mini-websites using the AWM software tools and hosting. The program owners say: "one site may bring in $30 average a month, so how many are you going to build?"
The features include niche keyword research, search engine optimization, traffic generation, portfolio management, competition analysis, site builder, one-click domain buying, training,  cloud hosting, and support.
After using up the limited credits given when you first join, you will have to pay for each domain name and hosting, and a nifty one-click domain name tool is provided.
Sub domains are offered as a free hosting option, but you are told upfront that sub domains do not benefit from the built-in SEO traffic strategies, which means a sub domain will get less traffic.
Members can benefit from the clear blueprint for researching and creating monetized mini niche sites.  The monetization includes Adsense, Clickbank and Amazon ad codes.
I liked a few things about Auto Wealth Maker…
But I disliked much more, as I explain next.
1. It boils down to whether you want to make money by building dozens of niche sites.  There are many paths to creating wealth online, and that is certainly one of them.  We are told that AWM has proprietary SEO strategies built into the system and if we host our own sites outside their service, the proprietary traffic generation method will not work.
2. The SEO strategies concerned me. They appeared to be more about gaming the search engines than focusing on adding quality content to your mini-sites.  The writing was already on the wall that Google would penalize mini-sites that use artificial means to get higher search engine ranking.
For example, the main traffic generation method uses an automated blog comment submitter. The software extracts comments from moderated Amazon product reviews in your niche, which presumably should be value added and all you have to do is select them for the blog comment submitter.
I prefer not to use that tool.  Such automated comments on blogs are not genuine discussion.  They are dumped on hundreds of blogs in the hopes that the blog owner does not moderate posts or will accept the comment thus creating backlinks and exposure for your niche sites. I would never want to put my name to such comments.
3. It did not impress me that the AWM owner sends endless streams of emails promoting every new hot automated product on Clickbank and Plimus.  I would have been far more impressed if those emails included tips about how to make the best use of AWM itself, and I would not have minded the occasional link to other resources.
4. The site was having technical glitches during my time there and some tools did not work, and at one point I could not log in. The advertising promised that sites can be built in ten minutes.  Well, two weeks later I still did not have my first site up – and I'm no newbie.
My Conclusion About Auto Wealth Maker
I cannot recommend Auto Wealth Maker. There is no such thing as automated wealth without a lot of hard work.
As well, one must trust that the owners will keep things running smoothly and efficiently for the long haul.  I saw no evidence of this during the time that I was involved.
Any product or program that relies an software requires that the software be regularly updated and maintained.  The chances are good that this one will be here today and gone tomorrow.  Don't waste your time.
Article originally published in May 2011.