Welcome!  My name is Jude Banks.  I've been involved with online marketing for more than a decade and enjoy the freedom of being my own boss and setting my own hours.  To learn more, read my profile.
Are you thinking about having your own online business? The goal of this website is to share tips and insights on how to use the internet as a tool to create income online.
We've all heard that a key to success in any endeavor is to take action.  That's true. "Doing" is important. However, long lasting success requires more than motivated action; it requires taking inspired action. Inspiration arises from an inner state of  certainty – it feels right; whereas motivation is a response to an external driving force. 
I discuss the difference between motivation and inspiration, and why it matters,  further down in this article. Creating a livelihood through the internet requires intention and focus. The right training and support makes the process easier, though one can expect challenges.  Having access to effective training and prompt support will save hours of wasted time and frustrations.
It is a cliche to say that knowledge is power. I like to think of knowledge as the fuel that drives us to take action to get the results we desire. There is a gap between learning and actually being able to do something.  Words don't really teach – experience does that – but words can guide us to closing the gap. Whatever your background, age or experience, I hope that the information, affiliate tips and insights on this site will help you to achieve your goals and dreams.
If you have always wanted to create your own website to share your talents and passions with the world, my task here is to point you in the right direction. The next 2 steps will help you to set a strong foundation going forward. The first step is to decide on your niche. In marketing terms, a niche is a common interest that is shared by a group of people within the same marketplace.
Think about your interests, hobbies and passions because you can create income based on that. Some of my interests are:  internet marketing (the main topic of this website),  writing, nutrition, body-mind connection, lifestyle, politics and current affairs.  I can drill these down to be more targeted to a particular audience. 
For example, "writing" is too broad.  However, "writing children's books" will attract website visitors who are interested in that specific topic. The second step will be to create a website based on your chosen niche. Money is an effect of creating and delivering value to others. Putting an ad in front of people is the last step, not the first step, in getting sales and signups.
A Business Website For Long Term Success
It is possible to make extra money via the internet without having your own website. However, the chances for success increase  when you take the extra step of buying your own domain name (around $15 USD per year). The website becomes your piece of cyber real estate where you control and grow your business.
These days you don't need to be a web designer to get a functional website up as long as you have access to appropriate training and support. If you have never made a website or did so long ago, I made a video on how these days you will be able to set up the basics of a new website in less than a minute. View the video by clicking here. You will be taken to another page on this site.
The website you create doesn't have to be beautiful.  I have a friend whose first website looked awful, but that didn't stop him from making a lot of money with it – because he offered something valuable that people wanted.
Difference Between Motivated and Inspired Action
Motivated action stems from a desire to obtain or achieve something that we don't have yet. It means we are willing to be self-disciplined in our approach to creating the desired result. Many people believe that being motivated is crucial otherwise it is difficult to take action.  It's great to be motivated, for sure. Though we have all experienced that motivation tends to come and go.
Using willpower or self-discipline works for many people but it can be overwhelming because it means we have to push through our natural resistance.  This makes it harder than it needs to be to get things done. Motivation will get you started but letting yourself be open to receive inspiration and act on it underpins long term creativity and success. You'll feel the difference when this happens, and you'll see it in your results.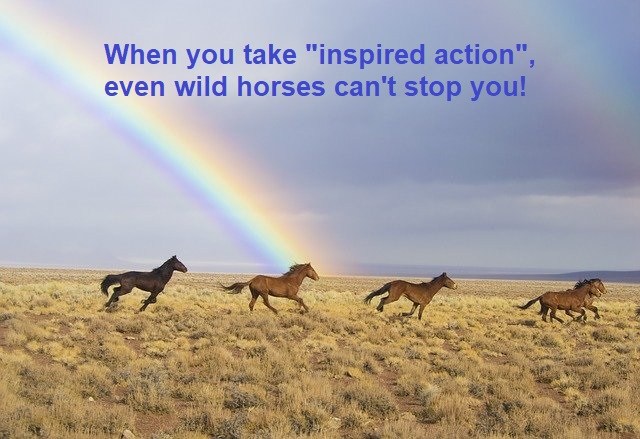 Inspired action requires no self-discipline, only faith in yourself.  The most effective action therefore is 'inspired' action, which means wild horses can't stop you. This does not mean you should wait for inspiration before doing anything.
Inspiration usually arrives when you least expect it. When taking inspired action, you will know it, because you want to do it. You will be in the flow and the 'doing' will feel easy and natural, time will pass quickly and you will think, "it's not so hard after all".
Making Mistakes Is Okay If You Learn From Them
Making mistakes is part of the learning journey. I won't pretend it's always smooth sailing.  Sometimes it might feel like pushing an elephant uphill.  The challenge is there to teach you to grow. Be open to the learning experience, continue to improve and you will reach the point of  taking 'inspired' actions without effort.
If you are looking for a safe environment where you can settle in, make new friends, network with like-minded people, learn what you need to know about earning online, a place to call your 'home online', find out more here. If you are ready to embark on a new adventure, jump right in and click below, start learning and creating and see where it will take you. No obligation – have fun with it!
You may also like:
Baby Steps to Affiliate Income

Do I Really Need My Own Website
---
I invite your comments and feedback below. If you have a website, I look forward to reciprocating.